Sector One
Ruled by Gideon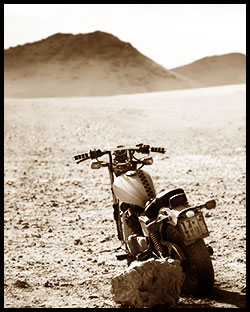 Sector One is ruled by Gideon Rios, grandson of Fernando Rios. Fernando Rios was not just the original ruler, but also the founder–and prophet–of the dominant religion in the sector. His belief system rejected the harsh and sterile dogma of Eden in favor of passionate and unwavering love–spiritual, emotional and physical.
The strength of his convictions gathered him a devoted following, but his belief in his own infallibility eventually lead to a violent civil war within the sector. Though the ideal of love triumphed in the end, the Rios family was torn apart in the process. Gideon rules the sector with a more tempered approach to his grandfather's principles.
Group marriages are common within Sector One. Families combine to form small communes that specialize in various trades and, for the most part, make use of a barter system. As there's always a demand within Eden for high-quality handcrafted goods, people in the sector trade extra wares to shops within Eden in exchange for supplies they don't have access to outside the walls.
The sector is patrolled and policed by Gideon's Riders, a group of trained fighters absolutely loyal to Gideon. Outside of enforcing peace, their primary goal is protecting and helping people who are suffering under the harsh conditions in the sectors. Sector One is a close ally of Sector Four, in part because Gideon's cousin is a member of Dallas O'Kane's inner circle.
Gideon Rios

- Leader of Sector One. Grandson of Sector One's prophet. Son of Juana. Has a strong relationship with his cousin, Mad, in spite of the fact that plenty of people think Mad should be the true leader of Sector One. His grandparents were from Mexico. He has light brown skin, dark hair with a hint of curl, and brown eyes. Colorful ink on his chest. He is afraid of heights.

[First Appears In: Beyond Control ]




Adirana "Ana" Jordan

- Following in the footsteps of her father, William, she is the first female Rider. Her birth was attended by Adriana. She has brown skin and curly black hair with deep brown eyes. 26 years old in DEACON. Tattoos: Rider on arm, on her spine is a sword surrounded by roses.

[First Appears In: Ashwin ]




Deacon Price

- Rider/ Commander of One's police force. Tall, broad. Brown hair with red. Bearded. Left shoulder tattoo: Leafless tree growing from skull, ravens spilling toward wrist. Prior to becoming a Rider he was a mercenary hired to kill Gideon. Former member of Suicide Kings. He was born the year the flares hit.

[First Appears In: Beyond Ruin ]




Dr. Kora Bellamy

- Special Clearance Regen Tech. Small but not delicate. Blonde hair with a few freckles on her cheeks. She has 2 bar codes on her wrist, erased. She helped save Ace. She has no memory of her birth family. Part of Project Panacea. Tattoos: 2 sets of flowering vines on her spine.

[First Appears In: Beyond Jealousy ]




Ashwin Malhotra

- Lieutenant and head of the Special Tasks unit. He was part of the Makhai project. He and Cruz have known each other since they were children. He is shorter than Cruz but built like Bren. He has brown skin, black hair, and light brown eyes. His birth mother's name was Natalie Olsen. Tattoos: Makhai on his back, leaves on his arm.

[First Appears In: Beyond Jealousy ]








Hunter West

- Rider. Part of the Royal Trio. His sister married into the Rios family. Brown skin. Buzzed hair.

[First Appears In: Ashwin ]




Gabriel "Gabe" Montero

- Rider. His family owns a spinning and weaving empire. His eldest brother is married into the Rios family. His family has friction with the Reyes family. Rider tattoo.

[First Appears In: Ashwin ]










Nita Reyes

- Acolyte. Oldest eligible daughter of the Reyes family. Curvy and self-assured. Golden skin. Brown eyes. She enjoys working with clay.

[First Appears In: Ashwin ]




Sola

- Acolyte. She designs lace patterns, is sponsored by Gabe's family and is being courted by Gabe's cousin.

[First Appears In: Ashwin ]








William Jordan

- He was twelve years old when the flares hit. Prior to becoming one of the first Riders he was a bodyguard for the Reyes family.

[First Appears In: Deacon ]




Fiona Jordan

- She owned a bakery and salon. She died of a heart attack 15 years prior to her husband.

[First Appears In: Deacon ]






Naomi

- Salon and shop owner on the western side of the town. She has some silver in her hair.

[First Appears In: Deacon ]




Olivia

- Baker and shop owner. Tall and willowy with deep brown skin, sharp cheekbones, and dark eyes. Poetry has been written about her smile.

[First Appears In: Deacon ]




Radek

- A Rider who was never sainted. He died when Marciella was young.

[First Appears In: Deacon ]




Colin Visscher

- His grandfather was the personal bodyguard of the Prophet, his father was Royal Guard. He was almost Maricela's hookup.

[First Appears In: Deacon ]




Fernando Reyes

- Rider. Part of the Royal Trio. Eldest son of One's second-most powerful family. He was supposed to marry Maricela. Brown skin, black hair to his collar, with brown eyes. Rider tattoo.

[First Appears In: Beyond Surrender ]




Delfina

- Tattoo artist and senior priestess. She is the record keeper for One. She is tall and willowy with long hair and brown eyes.

[First Appears In: Beyond Ruin ]










Ivan

- Ice cold. Second generation Rider. His father died protecting Adriana. Spiky blond hair. Blue eyes. His grandfather and uncles committed treason. Rider tattoo.

[First Appears In: Beyond Surrender ]




Maricela Rios

- Sculptor. Youngest of the Rios siblings. 19 years younger than Gideon. Orphaned as a small child, brought home by Gideon's mom. Her birth mother was an artist and her father was a butcher.

[First Appears In: Beyond Ruin ]




Ezekiel "Zeke" James

- Rider. Spiky blond hair. Hacker from the east tenants of Eden known as Robin Hood. His parents were members of a resistance cell and were murdered when he was thirteen. Tattoos: Rider symbol and colorful phoenix on wrist.

[First Appears In: Beyond Surrender ]




Karen

- One of Ana's contacts. She is a baker in the market square. Gray-streaked red hair.

[First Appears In: Deacon ]






Astrid

- 13 years old. She was brought to the Rose House at 6 years of age.

[First Appears In: Beyond Ruin ]




Donny

- Kitchen worker. Father. Blue eyes. Eldest son was kidnapped by Eden. He tried to kill Gideon and was killed by Maricela

[First Appears In: Beyond Ruin ]




Olivia

- Young girl from Two. She has been trained at the Orchid House since age 9.

[First Appears In: Beyond Ruin ]




Makalya

- Isabela's older wife. Nine children. Black curls. Freckles.

[First Appears In: Beyond Ruin ]












Stasa

- Formerly a cook in a brothel in Two, now runs the at the refugee camp.

[First Appears In: Ashwin ]




Susie

- Seven years old in Ruin. Eight siblings.

[First Appears In: Beyond Ruin ]






Malena

- Refugee from Two who was trained at the Lotus House. She was sweet on Jaden.

[First Appears In: Ashwin ]












George Cook

- Royal guard whose wife is expecting. Ivan and Deacon are building them a cottage.

[First Appears In: Deacon ]




Adriana Rios

- Mother of Mad and daughter of Sector One's prophet. Killed when Mad was a child, during the Sector One civil war. Considered a saint by the residents of Sector One. Long black hair. Heart-shaped face. Scar on cheek.

[First Appears In: Beyond Jealousy ]