We're just over a week away from release day for the next book in the Beyond series, which means it's time to catch up–or get started! For the rest of February, you can grab the first six books in the series for under $8 by snatching up the two bundles! And while you're at it, pre-order book #7–the book that changes everything.
Grab all seven books today!
Buy Now – $2.99
Amazon
Barnes & Noble
Kobo
iBooks
Buy Now – $4.99
Amazon
Barnes & Noble
Kobo
iBooks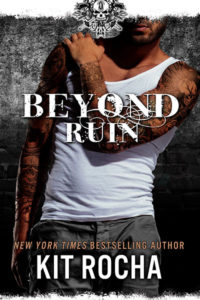 Preorder for $4.99
Amazon
iBooks
Barnes & Noble
Kobo
Want to try before you buy?
Book #1 in the series is FREE
Amazon, Barnes & Noble, Kobo, iBooks

All Noelle Cunningham has ever wanted is a life beyond–beyond the walls of Eden, where only the righteous are allowed to remain, and beyond her stiflingly restrictive existence as a councilman's daughter. But only ruins lie outside the City, remnants of a society destroyed by solar storms decades earlier.
The sectors surrounding Eden house the corrupt, the criminal–men like Jasper McCray, bootlegger and cage fighter. Jas clawed his way up from nothing to stand at the right hand of Sector Four's ruthless leader, and he'll defend the O'Kane gang with his life. But no fight ever prepared him for the exiled City girl who falls at his feet.
Her innocence is undeniable, but so is their intense sexual attraction, and soon they're crossing every boundary Noelle barely knew she had. But if she wants to belong to Jas, first she'll have to open herself to a world where passion is power, and freedom is found in submission.