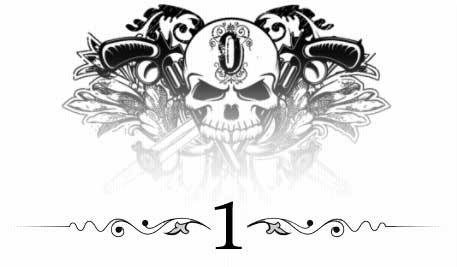 One more drink, and he'd call it a night.
Derek Ford watched the stage intently, cataloging every arch and moan, every flash of bare flesh washed pale by the harsh lights. Shows at the Broken Circle weren't just skin on display, bored dancers humping a pole and counting down the hours until closing. They were real, in-your-face revelries of lust.
And fuck, they were hot. The naked blonde on stage could brew a mean beer, rebuild a carburetor in twenty minutes, and finger her pussy on stage like it was the most fun anyone in whole goddamn world had ever had. If Ford could manage to remember her name, he might have loved her.
Maybe.
The blonde sucked in a breath and released it on a sharp, shuddering moan, and the crowd lost its collective mind. Cheers erupted and bottles clinked, a perfect representation of Sector Four–packed to the seams with sex and booze, just the way the O'Kanes liked it.
By his own choice, Ford had always existed on the fringes of Dallas O'Kane's gang. He was all in, working his ass off to help secure the group's financial interests. But when it came time to knock off and play, he shied away from some of the more carnal pleasures shared by the other O'Kanes. It wasn't his style.
The blonde rolled to her knees on stage, drawing his attention to the luscious curve of her ass. He shifted in his chair to relieve the pressure caused by the sudden surge of desire–and almost groaned aloud when the ache in his right leg blossomed into fiery pain. It was an immediate and sobering reminder that any and all offers to warm his bed these days were made out of pity, not passion.
Some fucking hero he was.
The redheaded bartender with the mouthwatering rack stopped by his table, her hand lingering over his nearly empty glass. "You want a bottle for the road, Ford?"
Shit, he didn't remember her name, either. It left him casting about for an endearment to cover his forgetfulness. "Yeah, sugar. That'd be real nice."
"You got it."
He followed her to the bar, his stride carefully measured to cover his lingering limp. Doc had assured him he was getting better, that all it took was time and care, but fuck if he could tell the difference sometimes.
Especially when he was tired. He accepted the bottle with thanks and made his way out the door at the back of the room. Through the backstage area, straight to his own personal fucking hell–the steep, narrow stairs leading up to his apartment.
Ford stood at the bottom for a moment, then gritted his teeth as he started up them. Slow, precise, his right hand clenched around the railing. He clutched the bottle in his left, and halfway up the flight of stairs, he almost lost his grip on some of the best O'Kane whiskey to be found, all because his palms were growing slick and damp with the sweat of exertion.
He heard the sounds before he reached the top, footsteps in his office followed by the clatter of filing cabinets. Someone bit off a curse, a low but feminine sound that made his stomach clench.
Ford swiped his arm across his forehead and flung open the door. There was a woman standing there, dressed in faded jeans and a halter-top that left a few miles of smooth brown skin bare. Also bare were her wrists, devoid of the tattoos that would have marked her as an O'Kane.
A stranger. She was pretty, built, infinitely fuckable–but she was standing in his home uninvited, and that meant she had to go. "Get out," he growled.
She started at the sound of his voice, clutching a file folder of reports to her chest as she spun around. She tensed, her big brown eyes fixing on his for just a moment before sweeping down to his wrists, and his tattoos. "Oh," she breathed out. "Are you Ford?"
"Depends on who wants to know."
"Your new assistant." She shuffled the papers smoothly to one arm and held out a hand, as damn chipper as if he wasn't standing there glaring at her. "Well, Lex gave me the job, but she said I'd mostly be working with you."
He ignored her proffered hand. "I don't have an assistant. Don't need one."
"No, you have filing cabinets." She frowned and tilted her head. "File cabinets? Honestly, I don't know what they're called or where Dallas O'Kane found them. It's barbaric."
Wonderful. Not only had she invaded his personal space, but now she was insulting his organizational skills. "You're a long way from Eden's fancy computers, buttercup. Around here, we make do, even if it involves barbaric pieces of paper for record keeping."
She braced her free hand on her hip and arched an eyebrow. "Don't tell me the most infamous bootlegger in all eight sectors can't afford a little tech. And I'm not from Eden."
No, not with that hint of fire in her eyes. It reached past the throbbing ache in his leg to reignite his banked libido, and he found himself staring at her mouth, waiting for her to lick her lips so he could catch another glimpse of her quick pink tongue.
Ford groaned. The smartest thing would be to scare her off, but she didn't look easily cowed. "I'll pay you to leave," he offered. "How's that?"
Now both of her eyebrows were up. "I don't need a score. I need a job. If you don't want me to mess with your files, fine–"
"Okay. Don't mess with my files."
She didn't falter, didn't even blink. "Then tell me what to do instead."
If I were an asshole… He waved the bottle of whiskey at her. "You could start by letting me drink half of this and jerk off so I can get some sleep."
That snapped her teeth together–for about five seconds. "If you're self-conscious about doing that with me in the next room, I could take some work home."
"Self-conscious?" He dropped the bottle on his desk and unbuckled his belt. "I'll lay it out right here, buttercup, if you like to watch."
Her gaze flicked to his hands, and he got that flash of tongue he'd been waiting for as she wet her lips. "I wouldn't be watching. I'd be working."
Filing papers like there was nothing more interesting going on? Fuck that. "Bullshit." Ford tugged open the top button on his jeans. "It may be a little battered these days, like the rest of me, but my ego's not dead. If I start stroking my dick right in front of you, you're damn sure gonna be paying attention. Not just watching–riveted."
The folder in her hands bent under the force of her grip. Not fear though, and that flush in her cheeks wasn't shyness, either. There was too much awareness in her eyes, like she was imagining his cock and how it would look with his hand wrapped around it.
Or maybe her hand.
She pivoted abruptly and dumped the crumpled files on his desk. "Life's funny sometimes, isn't it?"
"Goddamn hilarious." He left his belt hanging open, left that one lone button undone, and reached for the whiskey. "What's your name?"
She ignored the question and gestured to his straining fly. "Do you want me to help? Or just watch?"
The thrill of anticipation that shot through him made him the worst kind of asshole, after all. A snake. He snorted to cover it. "If I wanted a whore, lady, I know where to find one. I'm a big boy. I don't need Lex to deliver."
Her expression didn't change, but that damn shirt left her back and shoulders naked, and he could see her muscles tensing. "Lex warned me you were cranky. But calling me a whore won't scare me off, you know. I don't consider it an insult."
Her tone raked at him–defiant and resigned, all at once–and suddenly he knew. "Shit, you're from Two. What house? You act like a Rose."
That made her flinch, though her lips twisted into a mockery of a smile. "Why, because I'm not like Lex? No one's like Lex. A Rose would have blushed and pretended she didn't know what your dick did, because that's what men want, isn't it? A girl who acts like she's never seen a cock but can still swallow it when you shove it down her throat."
That sounded about right–for the fancy men in Two, the ones who liked their women mindless and obedient. Completely dependent, subservient–which was why they all kept whores. "Look, lady, you don't know me or my dick. And Lex didn't give you nearly enough information if you think the men in Sector Four prize bullshit fake innocence over a woman who honestly loves to fuck."
"Fake innocence was never my specialty." She slapped a hand down on the folders. "This was. Because Orchid House trains girls to use their brains. That's why Lex is the queen of your damn sector, and why I wanted to work for her."
"And she stuck you here." He snorted again. "That must suck."
"Not hardly. So you're grumpy and drunk and like to talk about your dick." She took a step, coming close enough that could smell her perfume now–something sensual and floral that hit him low in the gut. "You don't own me. That makes you the best boss I've ever had."
"Give me time, buttercup." He offered her the bottle with one upraised brow.
She snatched the bottle, took a swig–and choked. Furious color returned to her cheeks as her eyes watered, but she managed to swallow around her sputtering. Her gaze found his, and Lord, she was embarrassed as fuck.
Her jaw tightened, and she lifted the bottle again. Her lips closed around it so slow and deliberate it was fucking well obscene, and she watched him as she tilted back the bottle and took another sip.
She knew what she was doing, all right–and he was playing right into her sweet little hands. "Tomorrow," he murmured finally. "You want to get your hands all over my files? Ten a.m., and don't be late or I'll fire your ass."
Her sudden, radiant smile lit up her face and eyes as she handed the bottle back to him. "Mia. That's my name."
Oh fuck. Her fire was one thing, but that smile… It hit him in places more dangerous than his gut, lower and higher. Places he could ill afford for anyone to touch.
He swallowed and nodded. "Got it. Now can you do something for me, Mia?"
"Sure."
"Get out. Seriously."
She smiled again and turned to retrieve her thin jacket. "I'll see you in the morning."
She left looking pleased with herself, and why shouldn't she? She'd gotten exactly what she wanted, all because he hadn't been able to look into those dark, dark eyes and tell her to get lost.
Ford groaned and dropped into his desk chair. It smelled like flowers now, damn it, the same erotic perfume Mia wore. It wrapped around him, cutting through the sheer relief of being off his injured leg. Instead, tension twisted again, leaving his balls heavy–and everything else painfully tight. Achy.
He winced as he pulled open the remaining buttons on his fly and freed his cock. He touched it lightly at first, the way a timid virgin would, then grinned as he shifted his hand to grip his shaft.
Mia wasn't a virgin. And he'd seen one thing in her eyes as her gaze had traveled over him–she wanted to touch him.
She wanted it bad.
She wouldn't hesitate to take what she wanted, either. Ford closed his eyes, and the image came immediately–Mia, on her knees, walking her fingers slowly up his thighs. He groaned and tightened his hand for a moment before relaxing into slow, easy strokes. Not too fast, not at first.
His mind formed the words, whispered them as instructions to the Mia in his fantasy, and his pulse stuttered as his own hands disobeyed…just like she undoubtedly would. He bit off a curse and thumbed the head of his dick, slicking through the moisture his raw arousal had already released.
He opened his eyes, dragged open the top drawer on the right side of his desk, and retrieved the small bottle of lube he kept there. It was cool as he poured it out in his palm, and Ford hissed when he wrapped his hand around his erection once again.
The whiskey beckoned, and he lifted the bottle to his lips. He could taste Mia on the glass, and he groaned as he began to pump into his hand, quick and hard. He could fuck her just like this, with her long, smooth legs over the arms of his chair, her tits just out of reach of his mouth. He'd hold her hips above his and drive up into her–
He squeezed his fist as the first pulses of pleasure tickled down his spine, and he came with breathless speed, silent as he swallowed another groan. No, not a groan–a word–
Mia.
* * *