Welcome to Sector One
Ashwin is very first book in Gideon's Riders, a new series from Kit Rocha set in the same post-apocalyptic world as their first bestselling series. The war between Eden and the Sectors (covered in the Beyond series) is over, but victory brings its own challenges…like deciding what their new society should become.
Enter: Gideon Rios, grandson of a prophet and leader of Sector One, and his fanatically devoted personal army–a highly trained group of warrior bikers known as Gideon's Riders. Sector One might believe in love, but someone has to fight and bleed to protect those who want to live in peace. The Riders take the burden for those deaths on their souls, living as walking martyrs, men–and the occasional woman–with one foot already in the grave. Dozens of Riders died in the war, battling for the right to build a better world.
Those who remain face the hardest choice of all: to keep dying for love, or to start living for it.
It is not necessary to read the Beyond series before picking up Ashwin. While set in the same world and featuring some overlap in characters, Gideon's Riders is a new series with a new world and a new cast of heroes and heroines that old readers and new can discover together. 
Book Two: Deacon

.
Ana has trained most of her life to achieve one goal: to prove that anything men can do, she can do better. Now she's Sector One's first female Rider, and being the best is the only way to ensure she won't be its last. Distractions aren't allowed–especially not her painful attraction to the reserved but demanding leader whose stern, grumpy demeanor has already gotten into her head.
Deacon has spent the last twenty years trying to atone for his past, but the blood he spilled as a mercenary and assassin will never wash away entirely. If his Riders knew the extent of his sins, he'd lose their trust and respect. It's easier to keep them all at arm's length, especially Ana. But his newest recruit's stubbornness is starting to crack his defenses.
And their sparring matches are driving him wild.
The passion sparking between them can't be denied, but neither can the vengeance barreling toward Deacon. When his old squad comes back to punish him for his betrayal, Ana and the Riders are squarely in the line of fire. The only way to save his people may be to make the ultimate sacrifice.
But first, he has to convince Ana not to follow him straight into hell.
Buy Now
---
Book One: Ashwin

.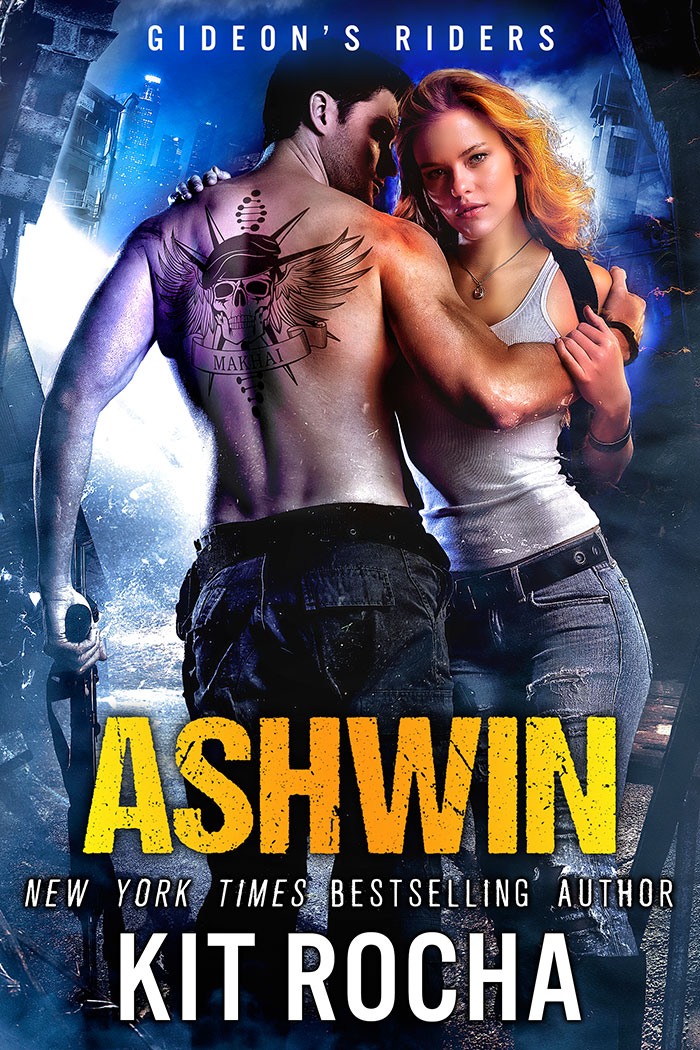 Lieutenant Ashwin Malhotra is a Makhai soldier—genetically engineered to be cold, ruthless. Unfeeling. His commanding officers consider him the perfect operative, and they're right. Now, he has a simple mission: to infiltrate Gideon's Riders, the infamous sect of holy warriors that protects the people of Sector One.
He's never failed to execute an objective, but there's one thing he didn't anticipate—running into Dr. Kora Bellamy, the only woman to ever break through his icy exterior.
When Kora fled her life as a military doctor for the Makhai Project, all she wanted was peace—a quiet life where she could heal the sick and injured. The royal Rios family welcomed her like a sister, but she could never forget Ashwin. His sudden reappearance is a second chance—if she can manage to touch his heart.
When the simmering tension between them finally ignites, Kora doesn't realize she's playing with fire. Because she's not just falling in love with a man who may not be able to love her back. Ashwin has too many secrets—and one of them could destroy her.
Buy Now
Amazon US, Amazon UK, iBooks, Barnes & Noble, Kobo, Amazon CA, Amazon AUS, Amazon DE

Book #4
Fall 2018